A rift is growing within the Republican Party over the degree to which the United States should continue to support Ukraine in its effort to expel the Russian forces that are attempting to take over large swaths of the country.
While key Republicans in Washington are still broadly supportive of the U.S. effort, which has channeled tens of billions of dollars in money and materiel to Ukraine since the launch of Russia's full-scale invasion in February 2022, dissenting voices are increasingly making themselves heard.
This week, Florida Governor Ron DeSantis became the latest high-profile Republican to suggest that the U.S. should back off its support for Ukraine. Though he has not officially announced his candidacy, DeSantis is widely expected to seek the Republican presidential nomination in 2024.
On Monday, Fox News host Tucker Carlson tweeted out the text of DeSantis' response to a question that the host sent to several potential Republican presidential contenders, asking about their positions on the war.
"While the U.S. has many vital national interests - securing our borders, addressing the crisis of readiness within our military, achieving energy security and independence, and checking the economic, cultural and military power of the Chinese Communist Party - becoming further entangled in a territorial dispute between Ukraine and Russia is not one of them," DeSantis wrote.
The governor described the U.S. commitment to Ukraine as a "distraction" from other serious challenges, criticized the Biden administration for offering a "blank check" to Kyiv, and denounced a policy of "regime change" toward Russia - something the Biden administration has specifically said it is not pursuing.
DeSantis' comments received enough attention to merit a response from the Ukrainian government. Oleg Nikolenko, spokesperson for the Ukrainian Foreign Ministry, tagged the governor on Twitter, writing, "We are sure that as a former military officer deployed to a combat zone, Governor @RonDeSantisFL knows the difference between a 'dispute' and war. We invite him to visit Ukraine to get a deeper understanding of Russia's full-scale invasion and the threats it poses to US interests."
FILE - Former President Donald Trump speaks at a campaign event March 13, 2023, in Davenport, Iowa.
Trump's position
Former President Donald Trump, who has announced he is running for the Republican nomination next year, has previously expressed extreme skepticism about U.S. involvement in Ukraine. However, in responding to Carlson, he was somewhat less clear about continued U.S. funding of the war.
He said that opposing Russia in Ukraine is not a vital strategic interest for the U.S. However, while he demanded that European countries provide more financial support for Ukraine - and reimburse the U.S. for some of what Washington has provided - he seemed to hedge somewhat when it came to the prospect of shutting off the flow of funds.
"[T]ell Ukraine that there will be little more money coming from us, UNLESS RUSSIA CONTINUES TO PROSECUTE THE WAR," the former president wrote.
Trump went on to call for immediate negotiations on ending the conflict, while insisting that the war never would have happened if he had been in office, and that he could broker an immediate peace.
"If I were President, that horrible war would end in 24 hours, or less," he wrote.
Other contenders
Other declared or potential Republican presidential contenders were more in favor of continued support of Ukraine.
Nikki Haley, the former South Carolina governor who served as Trump's ambassador to the United Nations, said during an appearance in Iowa last week that it is "imperative" to provide Ukraine with the equipment it needs to defend itself.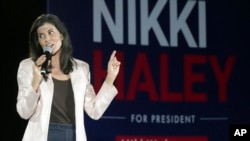 FILE - Former South Carolina Gov. Nikki Haley, a candidate for the 2024 Republican presidential nomination, speaks during a campaign rally March 13, 2023, in Myrtle Beach, S.C.
"If we win this war, this will send a message to China. It'll send a message to Iran. It will send a message to Korea. It'll send a message to Russia," said Haley, who announced her candidacy last month. "If we lose this war, we need to take dictators at their word. They said Poland and the Baltics are next, and you're looking at a world war."
Former Vice President Mike Pence, a possible presidential contender, characterized continued aid to Ukraine as a policy that former President Ronald Reagan, a Republican icon, would have supported.
'This is not America's war. But if Putin is not stopped and the sovereign nation of Ukraine is not restored quickly, he will continue to move toward our NATO allies, and America would then be called upon to send our own,' he said.
Criticism from Washington
DeSantis' comments on Ukraine drew disagreement and some outright rebukes from senior congressional Republicans.
In an interview with Politico on Tuesday, Senator John Cornyn commented on DeSantis' position.
'I'm disturbed by it. I think he's a smart guy. I want to find out more about it. But I hope he feels like he doesn't need to take that Tucker Carlson line to be competitive in the primary,' Cornyn said. 'It's important for us to continue to support Ukrainians for our own security.'
On Twitter, Senator Lindsey Graham wrote, "To those who believe that Russia's unprovoked and barbaric invasion of Ukraine is not a priority for the United States - you are missing a lot."
Graham went on to compare those calling for decreased support of Ukraine to the European nations that ignored the rise of Adolf Hitler in the 1930s.
"The last time someone in Europe claimed the land of others, and tried to take it by force of arms, was Adolf Hitler's attempt to build a Third Reich," he wrote. "Those who miscalculated Hitler's intentions paved the way for a wider war and missed many opportunities to stop him early on."
FILE - U.S. Sen. Marco Rubio, R-Fla., speaks during a Senate Foreign Relations Committee hearing, on Capitol Hill in Washington, Jan. 27, 2021.
Senator Marco Rubio, from DeSantis' home state of Florida, seemed to suggest that the governor's position might be a result of inexperience with foreign policy.
"I don't know what he's trying to do or what the goal is," Rubio said in an interview with conservative talk show host Hugh Hewitt. "Obviously, he doesn't deal with foreign policy every day as governor."
'Time will tell'
In an email exchange with VOA, Michael O'Hanlon, a senior fellow and director of research in foreign policy at the Brookings Institution, said he did not believe DeSantis' comments on Ukraine are representative of the feelings of most elected Republicans.
"I am skeptical the GOP will really stop supporting the war," O'Hanlon wrote. "DeSantis' comment isn't indicative of the center of gravity, and he isn't even in Congress. Time will tell."
However, while DeSantis' position on the war in Ukraine might not put him in the mainstream among Capitol Hill Republicans, it is one that many Republican voters appear to be adopting as the war continues, and U.S. expenditures on it mount.
"Republicans are becoming more wary of the Biden administration's program to support Ukraine," Carroll Doherty, director of political research at the Pew Research Center, told VOA. While he stressed that it's not a majority of Republicans who have turned against the war, it is a significant percentage. "Republicans, essentially, are divided on this," he said.
Souring public opinion
The Pew center conducted a poll in March 2022, the month after Russia's full-scale invasion began. The results showed widespread support for helping Ukraine, with 74% of Americans saying that the Biden administration was either providing the right amount of aid, or should provide more, including 72% of Republican and Republican-leaning respondents, and 77% of Democrats and Democratic-leaning respondents. Only 7% of respondents said the U.S. was doing "too much," including 9% of Republicans and 5% of Democrats.
Since then, the percentage of Americans saying the U.S. has given "too much" aid to Ukraine has steadily increased, hitting 26% in January, the last time Pew asked the question. However, the growth was much more pronounced among Republicans and Republican-leaning independents, with 40% saying the U.S. has given too much, compared with 15% of Democrats and those who lean Democratic.
The percentage of Republicans and people who lean Republican reporting that they see the Russia-Ukraine war as a threat to the U.S. has also changed dramatically, falling from 51% in March 2022 to 29% in January 2023. The percentage also fell for Americans as a whole, from 50% to 35%, and for Democrats and people who lean Democratic, from 50% to 43%.
Doherty said that the sharp divergence between Republican and Democratic attitudes toward the war is a common feature of much political polling in recent years.
"You see it across many, many issues, once an issue becomes highly visible or becomes essentially a political issue," he said. "Attitudes have become more and more polarized by partisanship."