The films of the Harry Potter series impress not only with their exciting plots, as well as their delightful acting, but also with their enchanting atmosphere. There are old castles, mysterious rooms, atmospheric shops, and picturesque landscapes. As surprising as it might sound, similar places with such a mesmerizing atmosphere can also be found in Russia.
1. Neo-Gothic gem: the Cathedral of the Immaculate Conception of the Holy Virgin Mary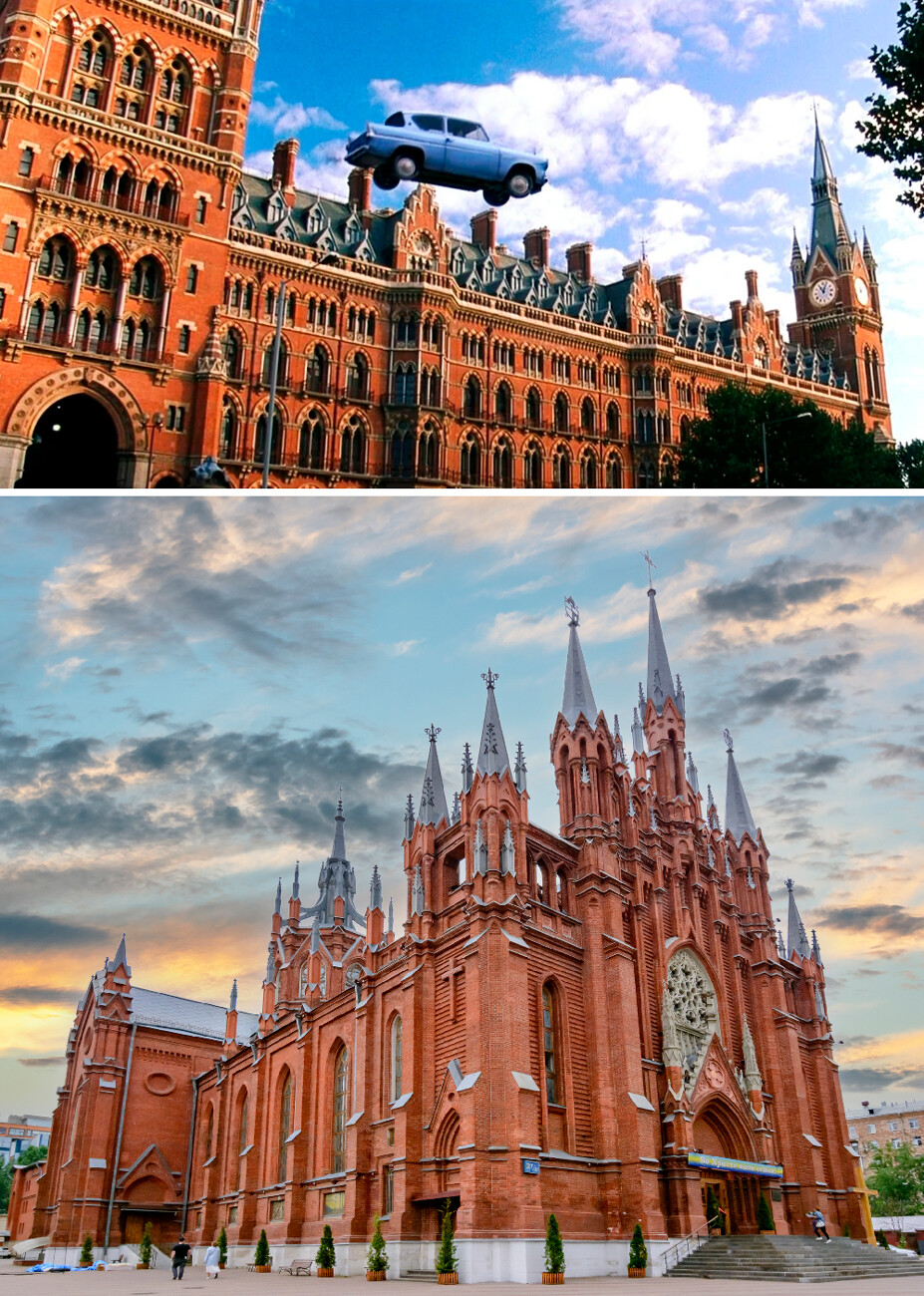 Chris Columbus, 2002/Warner Bros. Pictures; Legion Media
Every new school year begins with Harry Potter and his friends taking a journey by train that departs from platform 9 ¾ at King's Cross railway station in London. But the neo-Gothic facade of St Pancras and its red brick towers, over which Harry and Ron flew in one of the movies, were much more memorable in the minds of the audience.
The neo-Gothic masterpiece, the Cathedral of the Immaculate Conception of the Holy Virgin Mary on Malaya Gruzinskaya Street in Moscow, looks almost identical to St Pancras. Ornate spires, medieval lancet windows, high vaulted ceilings - much of how this Catholic cathedral looks is reminiscent of Old England.
2. The Puddling (Pudlingovy) Viaduct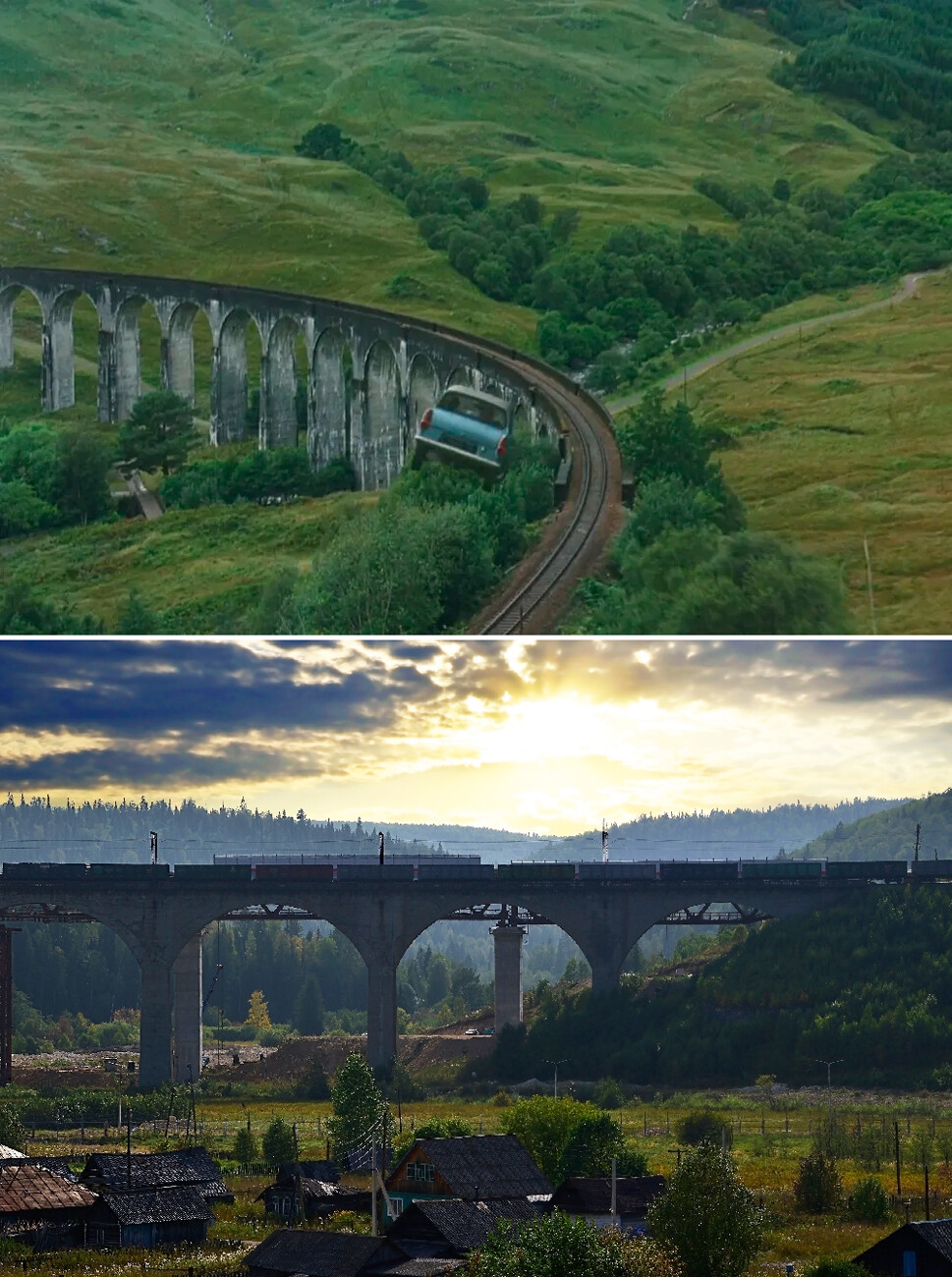 Chris Columbus, 2002/Warner Bros. Pictures; Legion Media
One of the most memorable views of the Harry Potter series is the Glenfinnan Viaduct that's traversed by the Hogwarts Express train on its way to the School of Wizardry. A similar bridge can be found in the Sverdlovsk Region. The viaduct there has railway tracks that were built in 1916 near the village of Pudlingovy. Despite the fact that the viaduct is more than a hundred years old, it's still operational. Unfortunately, you can't approach it too closely, but you can admire it from a distance: Climb one of the neighboring hills and enjoy the view.
3. The Ruskeala Express train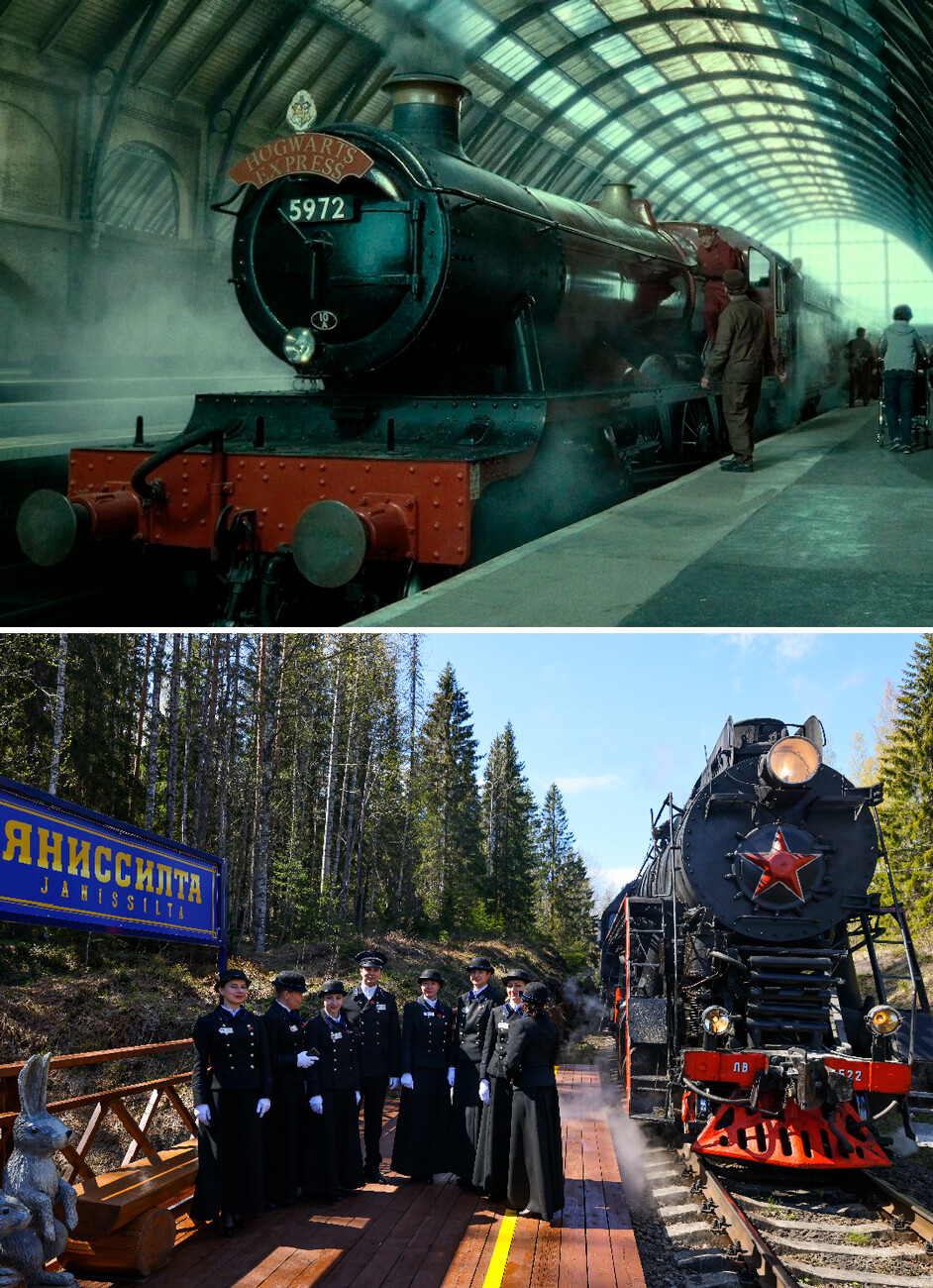 Chris Columbus, 2001/Warner Bros. Pictures; Pyotr Kovalev/TASS
Russia also has its own local Hogwarts Express - the retro Ruskeala Express train that runs in the Republic of Karelia between the city of Sortavala and the Ruskeala Mountain park. The fact that this is a steam engine-powered train creates an atmosphere of bygone days about it.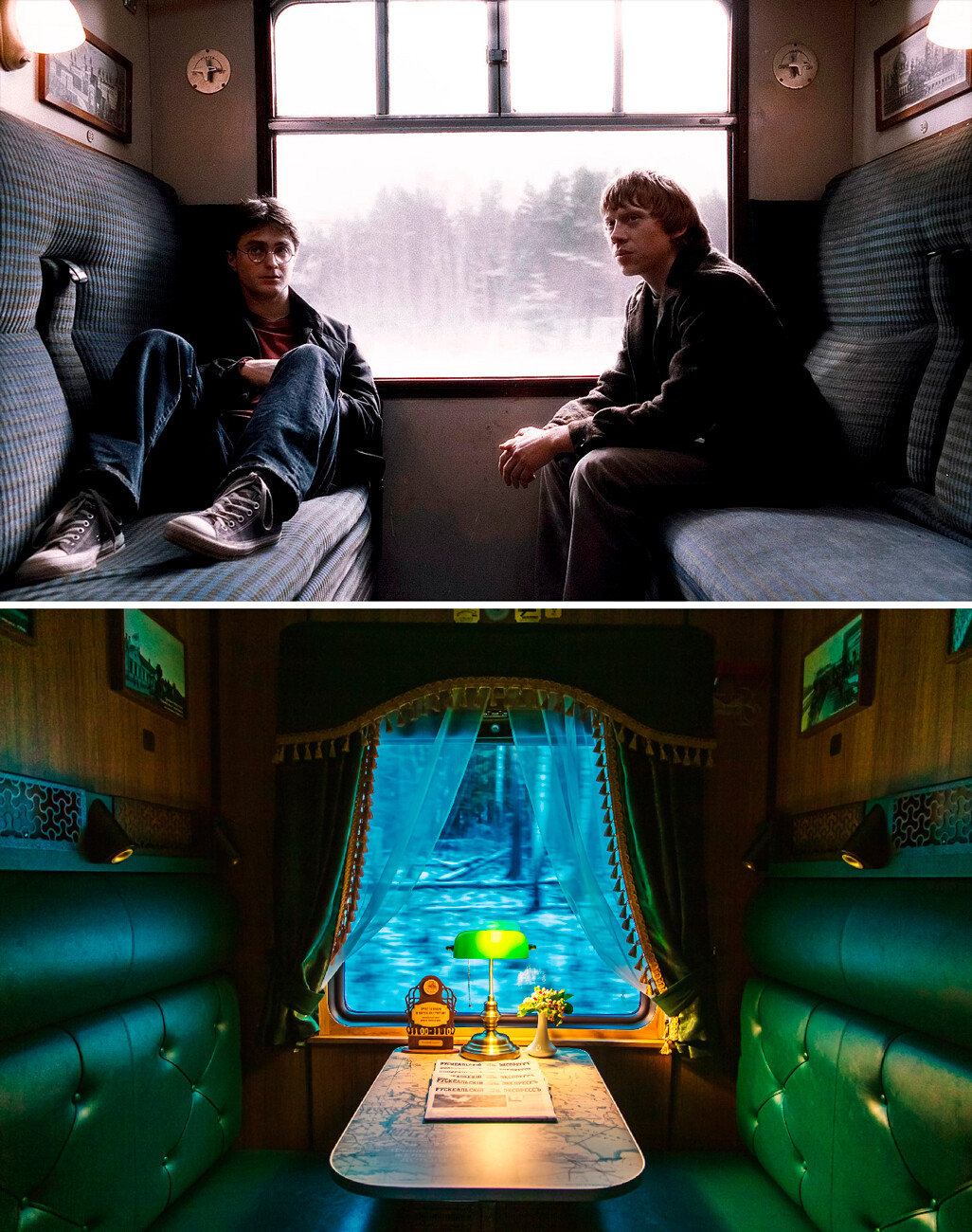 David Yates, 2009/Warner Bros. Pictures; Legion Media
The compartment cars and its dining car are designed in the 19th century style and furnished in a way such that it seems a witch with a cart of magic treats might pass through the corridor soon.
4. Yegorievsk Technological Institute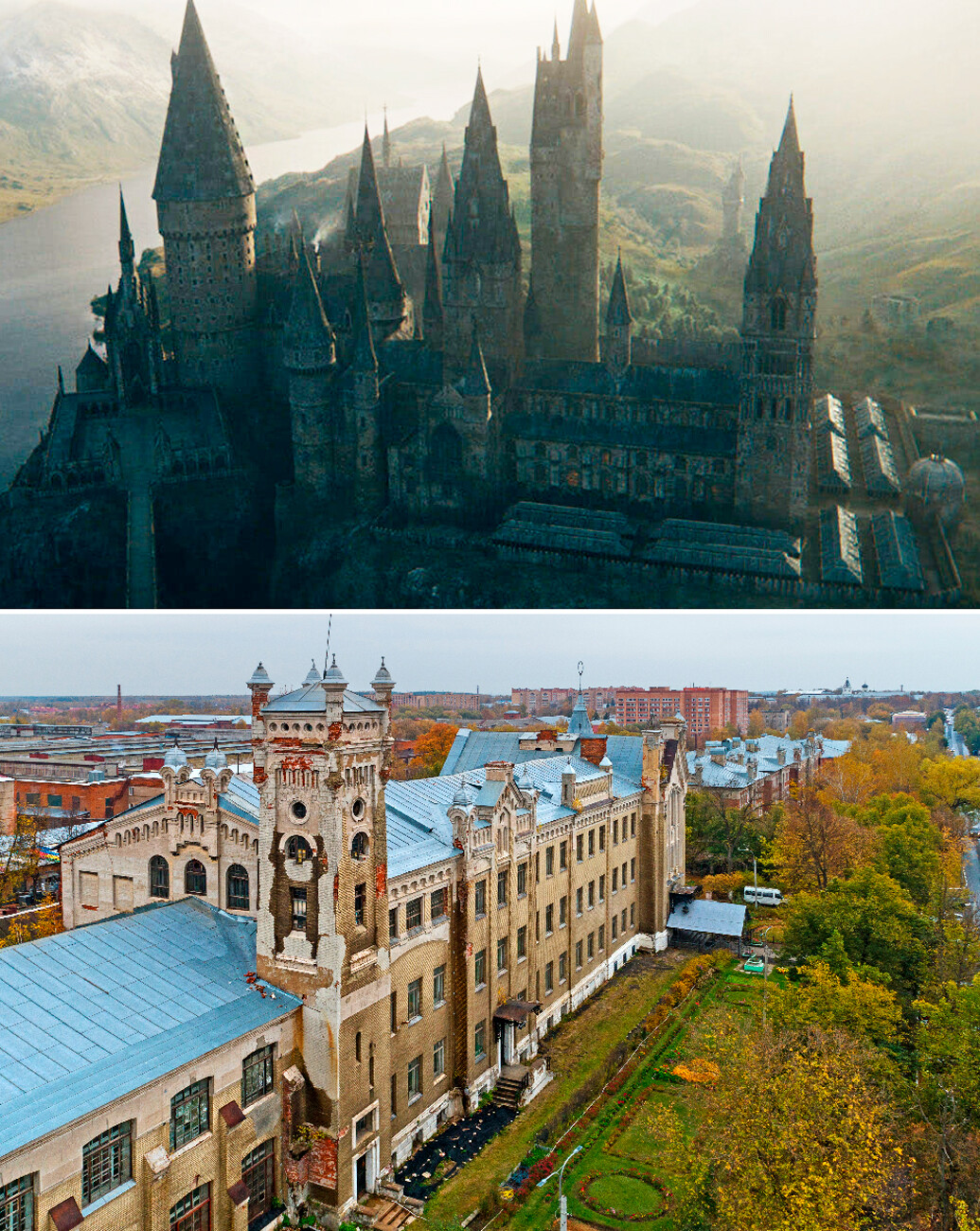 Chris Columbus, 2001/Warner Bros. Pictures; Ludvig14 (CC BY-SA 4.0)
This building of the Bardygin Yegorievsk Technological Institute was designed in the English Gothic style, and opened back in 1909. It bears an uncanny resemblance to Harry Potter's School of Witchcraft and Wizardry. Just like in Hogwarts, the main building has lancet windows, a tower (although no one studies astronomy there), and a botanic garden with a pond that recalls the Black Lake with mermaids near the Scottish castle.
5. Tsaritsyno Greenhouses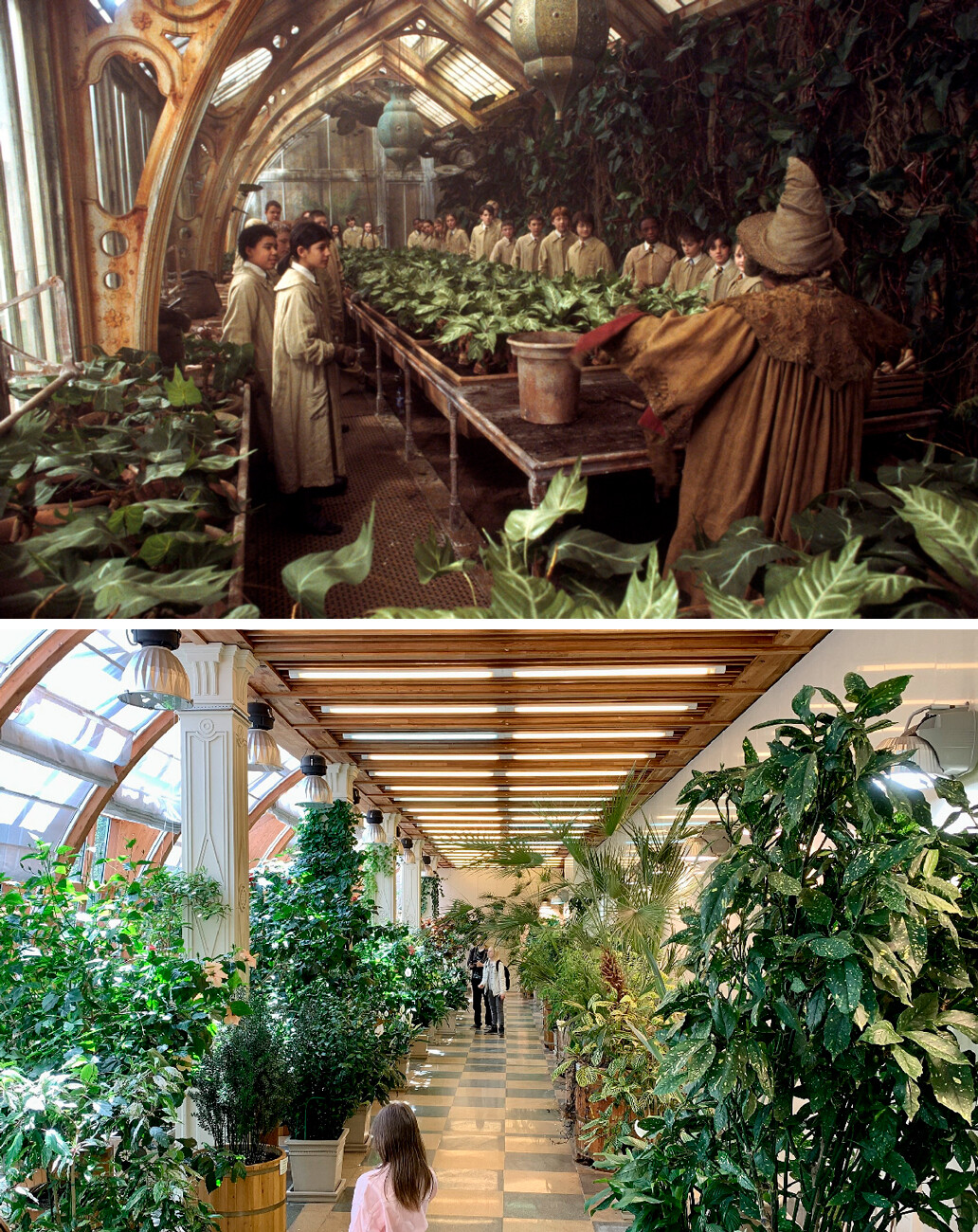 Chris Columbus, 2002/Warner Bros. Pictures; Sergey Sebelev (CC BY-SA 4.0)
The greenhouses of the Tsaritsyno Estate in Moscow could pass as a counterpart to Pomona Sprout's Greenhouses, whereshe taught school students to dig out and care for mandrakes, as well as studying other topics regarding herbology. The widely varied flora in the collection of Tsaritsyno can definitely compete with the greenhouses at Hogwarts. The very first greenhouses in Tsaritsyno were built at the beginning of the 1740s. Since then, exotic fruits and decorative plants - roses, bitter oranges, grapes, figs, aloe, and more - have been cultivated there. Just like Professor Sprout's greenhouses, the ones at Tsaritsyno boast rare saplings and trees that bloom and bear fruit all year-round.
6. Grunwald Oak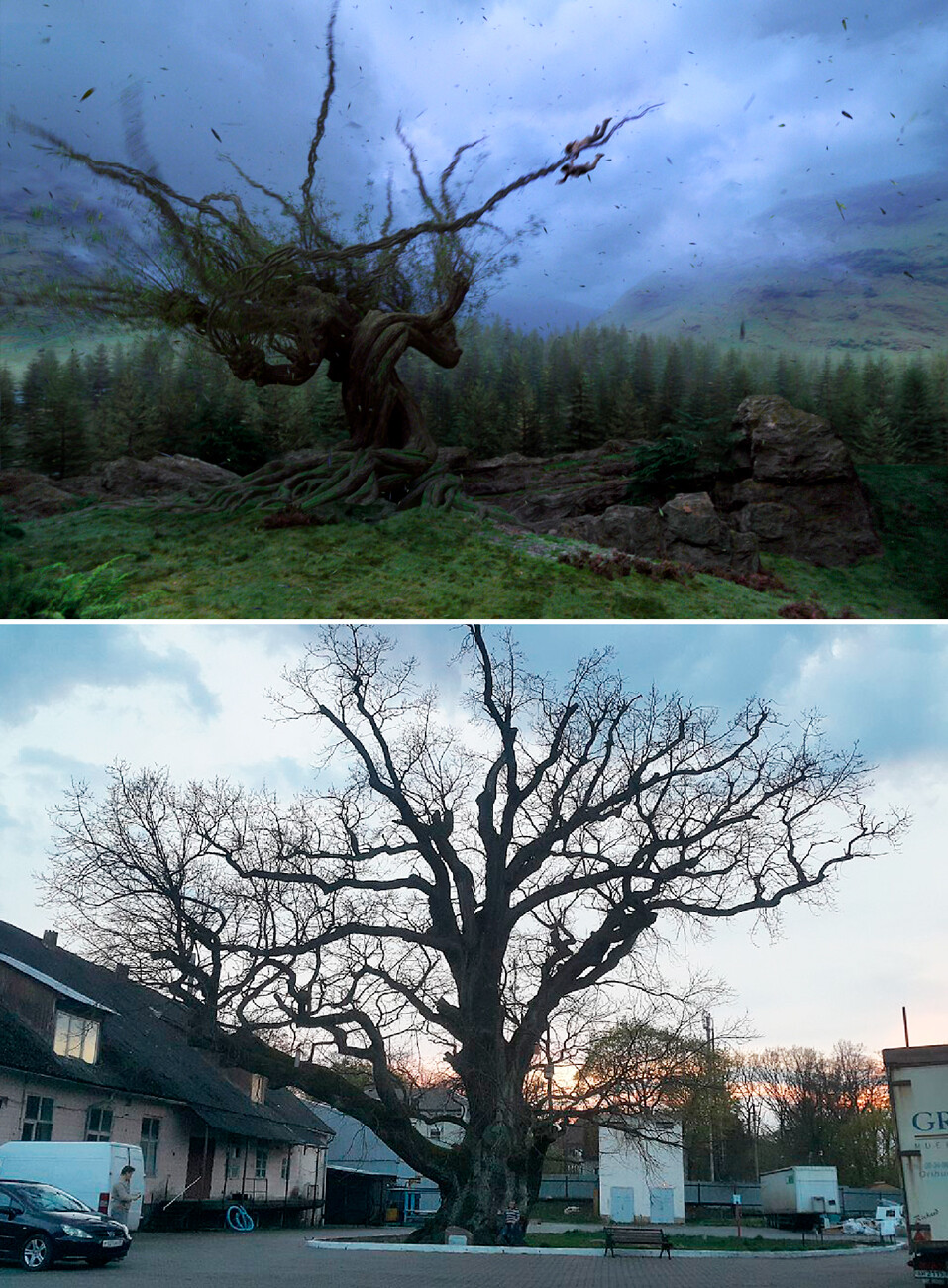 Alfonso Cuaron, 2003/Warner Bros. Pictures; Vitaly Frosti Petrov (CC BY-SA 4.0)
Yet another symbol of Hogwarts is the Whomping Willow, which is known for its quarrelsome character. It was this tree that scuffled with the flying car, in which Harry and Ron traveled to school during their second year. The branches of this tree can catch unwary birds; and a passage deep between its roots leads to the Shrieking Shack. One of the oldest trees in Russia is the Grunwald Oak in the Kaliningrad Region; it's more than 800 years old. While this Russian tree looks quite different from Harry Potter's willow, its vast size (more than 13 meters in circumference and 40 meters of width at the crown) is comparable to its magic 'relative' in the Harry Potter film in terms of beauty and grandeur.
7. Khodasevich and Podpisnye Izdaniya bookstores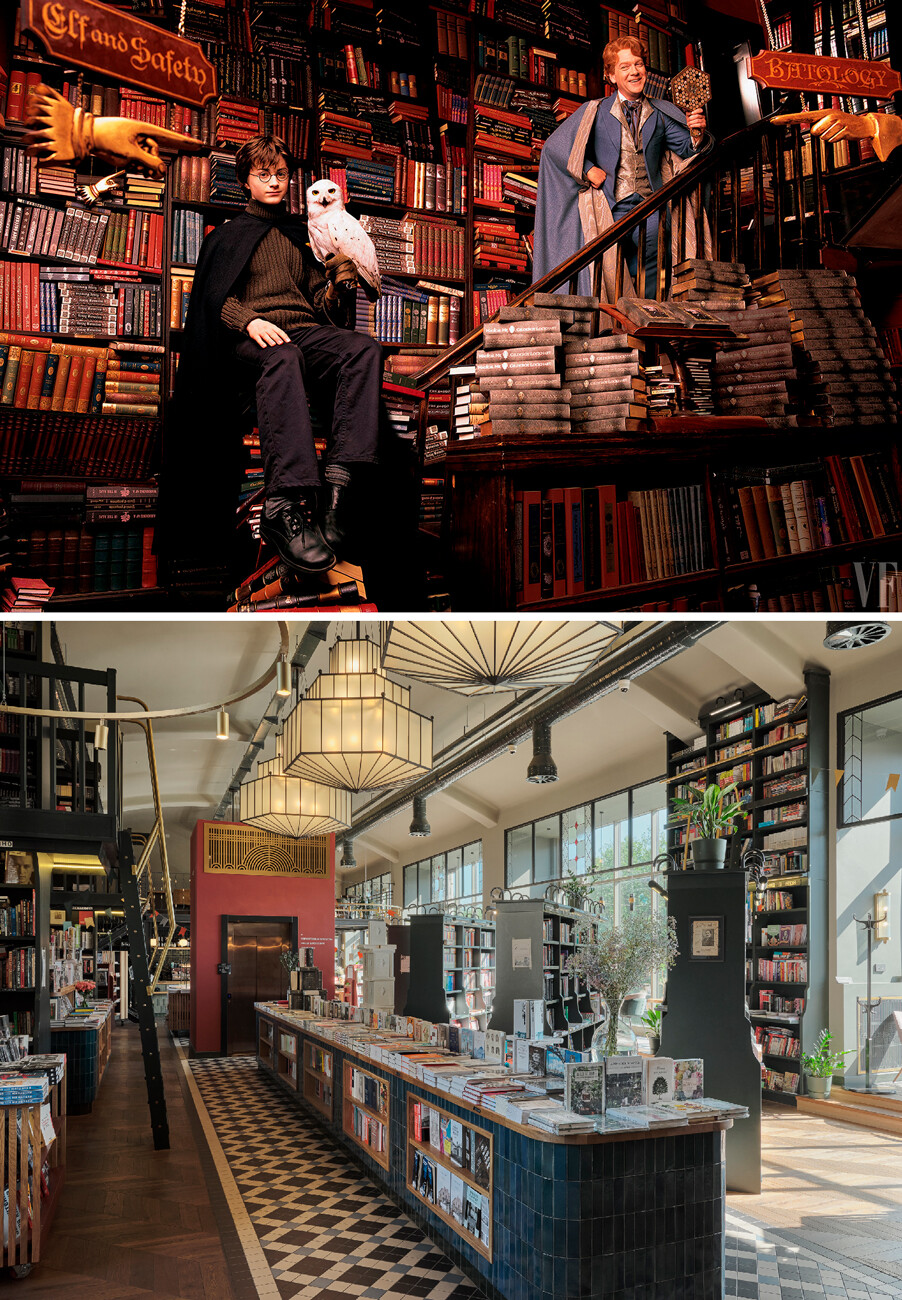 Chris Columbus, 2002/Warner Bros. Pictures; podpisnie.ru
Flourish & Blotts is the shop visited by all students of Hogwarts before their academic year begins. Here, students of magic can buy books on herbology, about the care of magical creatures, how to do transfiguration, and more. Just like the magical bookstore in the film, Moscow's Khodasevich Bookshop is also stacked with tomes from floor to ceiling. It's easy to get lost here, because its narrow corridors seem like a labyrinth. Each of its uneven shelves amply provide rare editions about theater, architecture, arts, linguistics, and history.
You can also lose track of time wandering around in another bookshop - Podpisnye Izdaniya in St. Petersburg. The building was crafted in the Northern Art Nouveau style, and inside you will find mobile ladders and high shelves where you can choose a book and make yourself comfortable on a wide windowsill or while sipping some coffee.
8. Eliseevsky Store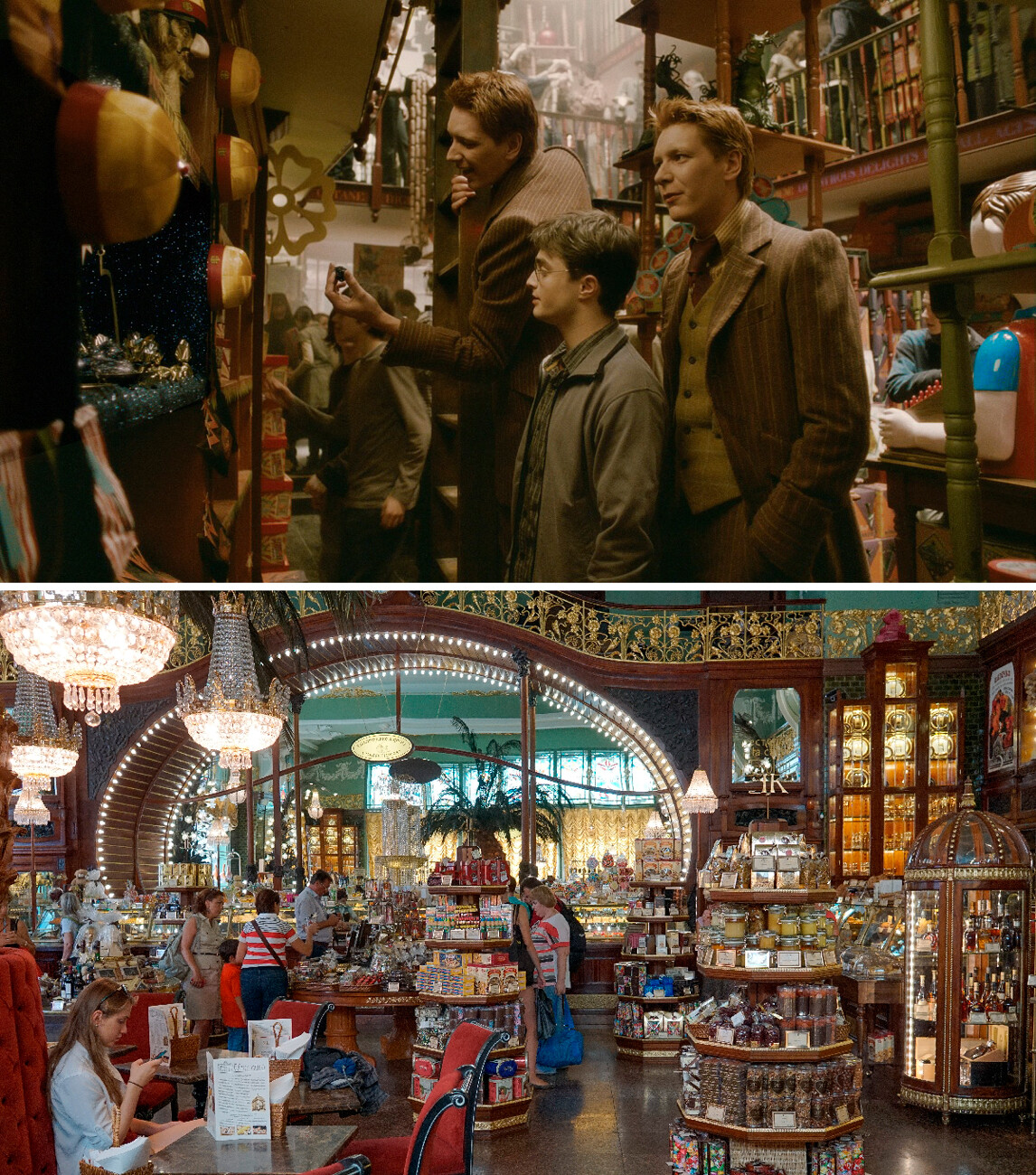 David Yates, 2009/Warner Bros. Pictures; Alexei Danichev/Sputnik
The imperial era food shop of the Eliseev merchant family is another site in St. Petersburg where you can easily imagine bumping into the heroes of the Harry Potter series. With its imposing look and a wide selection of foodstuffs and produce on sale, it's reminiscent of the Weasleys' Wizard Wheezes shop. Just like the assortment of the ginger twins, this shop offers goods that are rich with exotic rarities. The delicacies, handmade sweets, and prepared dishes that are made from old recipes will impress any visitor just as much as the building's exquisite Art Nouveau interiors.
9. Singer Building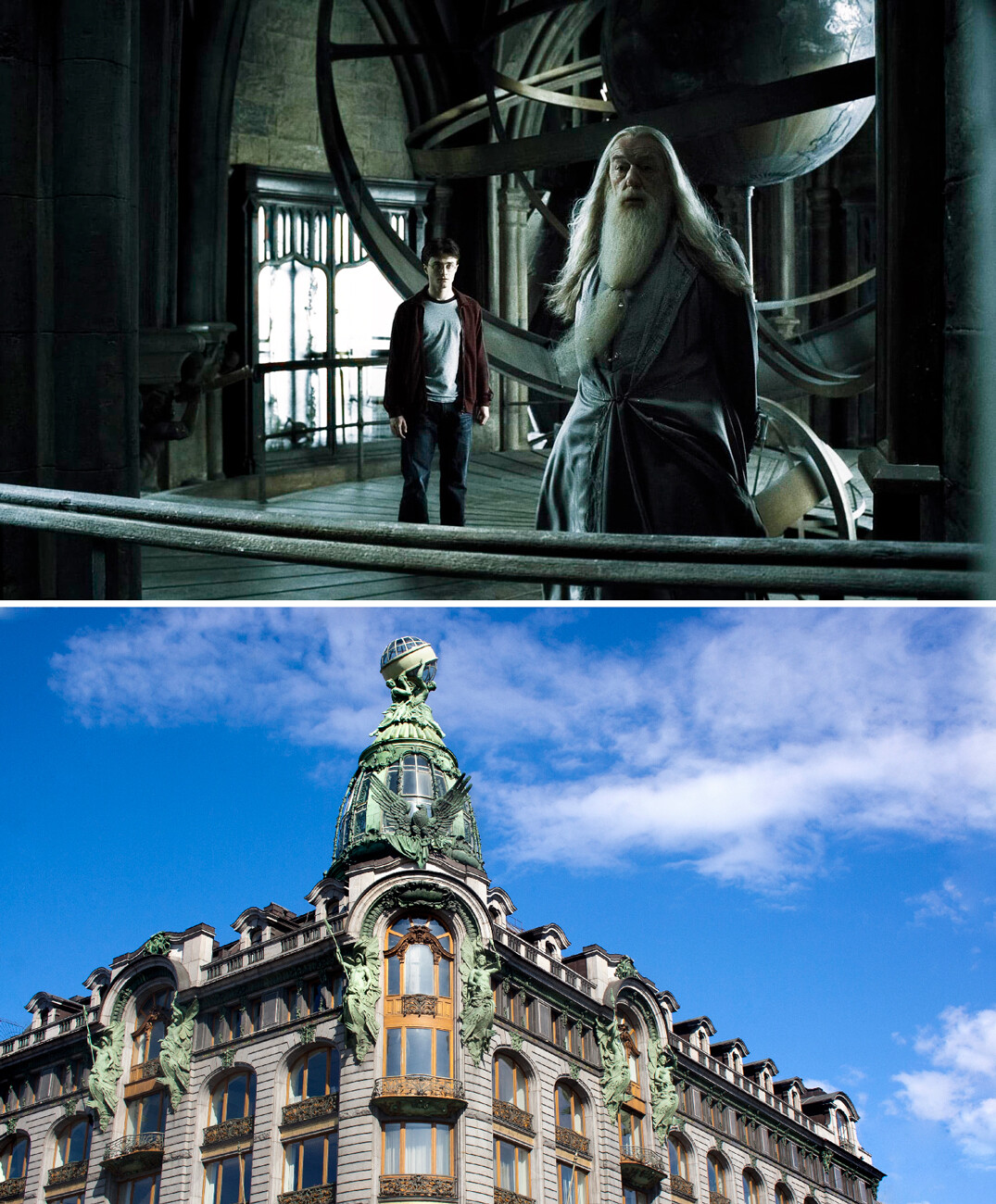 David Yates, 2009/Warner Bros. Pictures; Legion Media
One of the dominant elements of Hogwarts is the Astronomy Tower, which was the scene of a number of important and dramatic events in the Harry Potter films. The imperial era headquarters of the Singer Sewing Machine Company in St. Petersburg looks just as imposing. Built in the Art Nouveau style, the facade features female Valkyrie sculptures, with each holding a spindle with steel thread, and that have sewing machines at their feet. This is the symbol of the Singer corporation, which commissioned the building in the late tsarist era. This magnificent architectural gem is crowned by a glass dome with an eagle spreading its wings. It reminds one of Ravenclaw House, the symbol of which also features an eagle.
10. The Russian State Library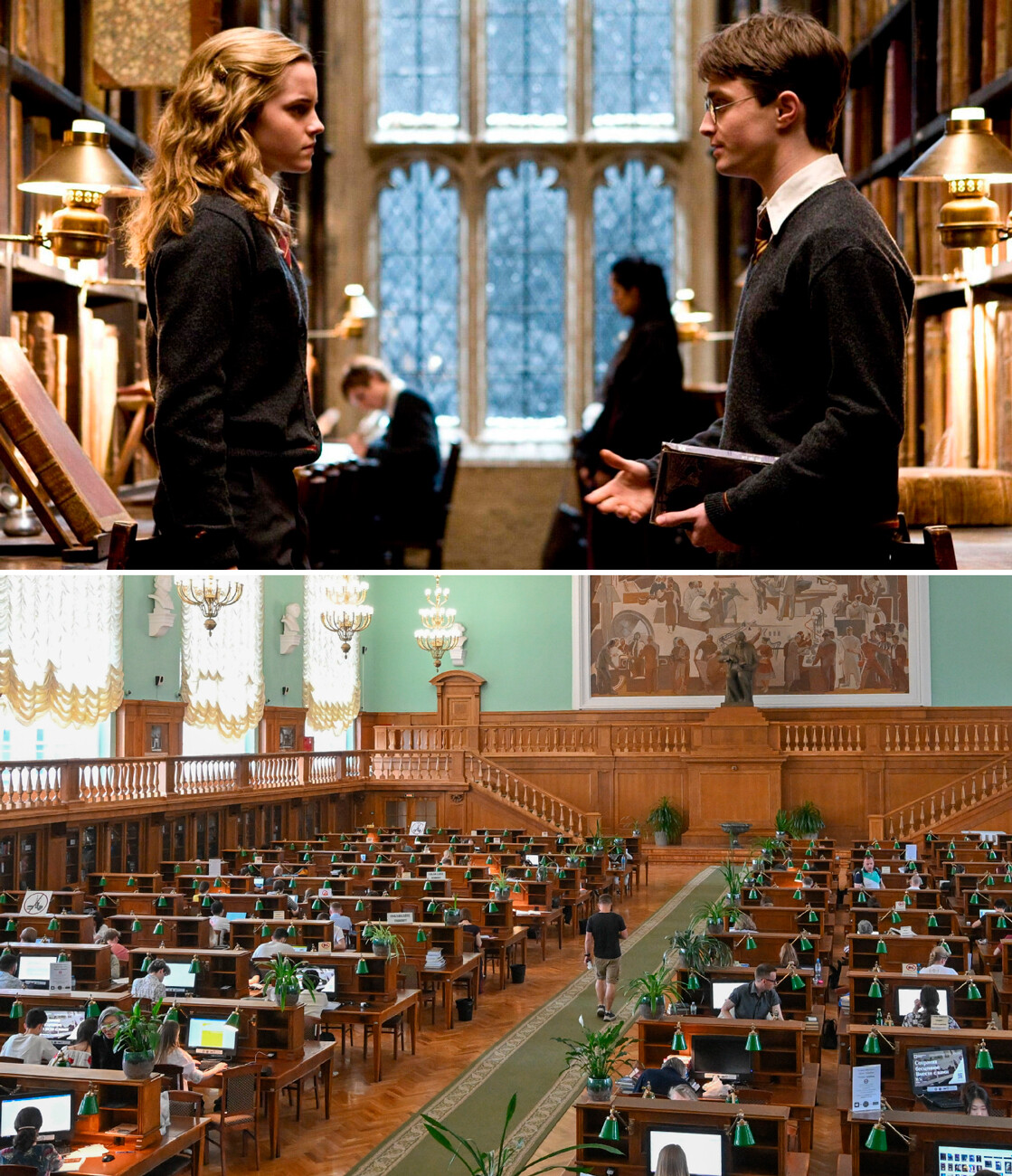 David Yates, 2009/Warner Bros. Pictures; Sergei Guneev/Sputnik
You can find any book in Hogwarts Library. The Russian State Library in downtown Moscow is the largest public library in Europe, with a collection that contains about 49 million books. In terms of exquisite design and interior, it can easily hold its own against Hogwarts Library. The vestibule and the main staircase of the Moscow library are impressive; while it's main reading hall, which is decorated with marble, bronze, and oak panels, looks like a museum.
Dear readers,
Our website and social media accounts are under threat of being restricted or banned, due to the current circumstances. So, to keep up with our latest content, simply do the following:
Subscribe to our Telegram channel
Subscribe to our weekly email newsletter
Enable push notifications on our website
Install a VPN service on your computer and/or phone to have access to our website, even if it is blocked in your country